Services-Tooling Contents

WFT's Tooling department is known in the embossing industry for producing high quality and accurate step and repeat (recombine) holographic images. Unlike many other step and repeat systems that are limited by size, WFT can work with images as small as 0.25" x 0.25" and larger than 24" x 24". Working from photo-resist or nickel plates, a recombine (tiling up of images) can be made ready for electroforming up to 40" x 65". Surface relief structures that are holographic, computer generated, grayscale originated, E-beam generated, or diamond cut with structure depths from 0.01 micron to 150 microns have been recombined. Because of WFT's unique process, completed recombines can be back to the customer in as little as one day instead of weeks.
Services-Drop-In Contents

Customization of holograms can be made with WFT's drop-in capability long after the hologram has been originated. Drop-ins can be in the form of text, custom graphics such as a logo, or even a simpl dot; the possibilities are endless. Typical images are simple diffraction gratings with various frequencies, matte white, dot matrix images, or patterns, and holographic optical elements (HOE) or Computer-Generated Holograms (CGH). This technique greatly increases the difficulty of counterfeiting holograms and allows for a hologram to be updated with new information without the high cost of a new origination. All services are provided on a short lead-time, fast turn-around basis.
Services-DTM (Diamond Turning) Contents

Horizontal Drum Lathe (HDL)
WaveFront Technology, Inc, (WFT) has a state-of-the-art environmentally controlled Diamond Turning facility, featuring an ultra-precision Horizontal Drum Lathe (HDL). The HDL is a 4-axis machine tool, and its capabilities include:
One nanometer programming resolution
Spiral Patterning
Fast Tool Servo
Integrated Drum Metrology
The System is capable of single point diamond machining optical faces up to 2 meters in length with a mirror finish. Further details on the machine are available on the Nanotech website Nanotech
WFT is fully integrated with the ability to design and originate quality microstructures to match our best in class roll to roll UV casting lines, with production capabilities up to 1.5 meters in width.
Single Point Diamond Turning
WaveFront Technology Inc (WFT) has a broad background in diamond turning. Using a Moore M18 days to the most current, state of the art Precitech nanotechnology diamond turning machines available today, we have 36 years of combined diamond turning experience. The tight-knit group works together to develop new diamond turning processes and solve the toughest problems. WFT is widely known and acknowledged for diamond turning lenses/surfaces that others have failed. We have the capabilities to diamond turn from large 600mm OD mirrors to 1.7mm prototypes.
Services-Electron Beam Lithography (Ebeam) Contents
Electron Beam Lithography (Ebeam)

WaveFront Technology, Inc, (WFT) has a state-of-the-art environmentally controlled electron bea lithography facility with a JEOL JBX-9300FSZ. The electron beam lithography system features a spot beam, Vector scan, and a step and repeat stage. Capable of varying the beam size widely, the system is versatile in its applications from basic research of elements to test production of optical elements to research and development for masks for high accelerating voltage exposure. Its capabilities include:
Gaussian spot electron beam: 4nm diameter
Accelerating voltage: 50 kV / 100 kV
Current range: 50 pA - 100 nA
Scan speed: 50 MHz
Vertical range automatic focus: ±100 µm
Vertical range manual focus: ± 2 mm
ZrO with thermal field emission source
Vector scan for beam deflection
Maximum 300 mm (12") wafers with 9" of writing area
Line width writing at 100 kV: < 20 nm
Field stitching accuracy at 100 kV: < 20 nm
Overlay accuracy at 100 kV: < 25 nm.
The system can pattern a wide range of substrate sizes and can align to pre-existing patterns.
Services-Production Contents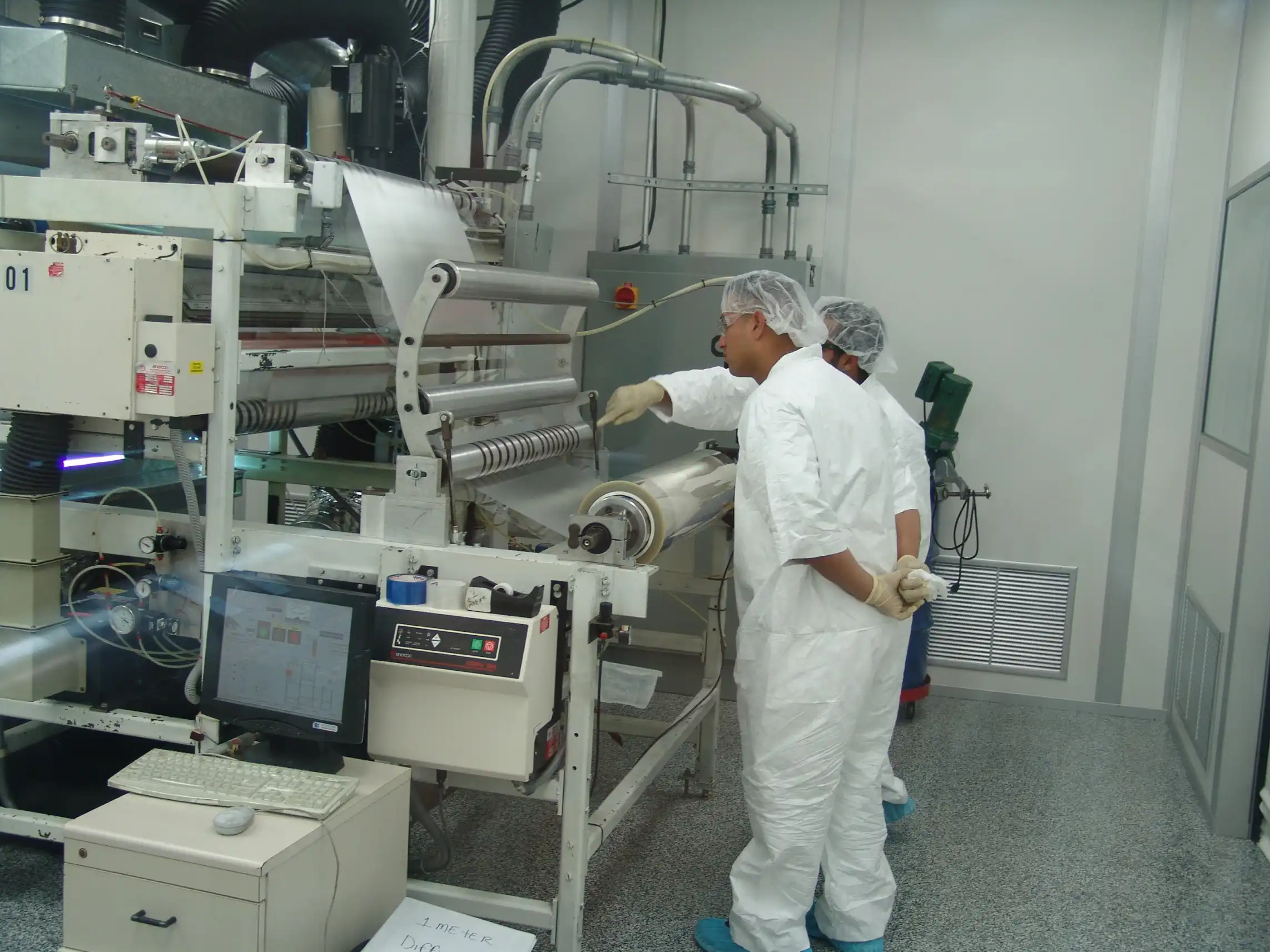 WFT's production department offers high quality Roll to Roll embossing service. This service lends itself best for micro-structures that demand very high quality due to our proprietary UV Cast Cure technology. Unlike thermal embossing our technique allows the finest details of a microstructure to be reproduced down to nanometer size. These micro-structures include specialty/packaging films, lens films, security images, holographic optical elements (HOE), diffraction gratings such as Rainbow, or Fresnel, prismatic/lenticular structures up to 150 microns deep.
WFT currently mass produces in a roll-to roll process, products such as tailored microstructure diffusers (TMD), specialty films, diffraction gratings, security holograms, moth-eye antireflection film, and various microstructure film for applications such as packaging, backlights, micro-fluidics, drag reduction, fluidic self-assembly, and prismatic films. WFT works with the customer to provide the best product at the most effective price. Toll embossing is one method used to achieve this. We can produce product where the customers have provided the master surface relief tool used to make product, the substrate material, and even the polymer used to cast the product.
Services-Micro Embossing Contents

WFT's production department offers unique proprietary high-quality embossing services that produce a wide variety of web products that include custom engineered structures, specialty film, labels, prismatic films, and packaging film. This service lends itself best to surface relief microstructures that demand the highest quality, including holographic diffusers (TMD(TM)), holographic optical elements (HOE), diffraction gratings such as rainbow, security labels, and prismatic or lenticular structures. Surface textures with depths of between 10 nanometers up to 200 microns have been embossed. WFT has multiple casting lines custom built in-house that range from 6" wide pilot line up to 68" wide production line. Rolls of material can be made clear for transmission products or coated with metal and made reflective. This material can then be adhesive coated, die-cut, and even laser cut.
WFT's micro-structured films are manufactured in a Class 10,000 Cleanroom via a roll to roll process with widths ranging from 6" to 68". For additional information regarding our micro-structured films please contact our sales department at information@wft.bz.
Services-Large Flat Panel Replication Contents
Large Flat Panel Replication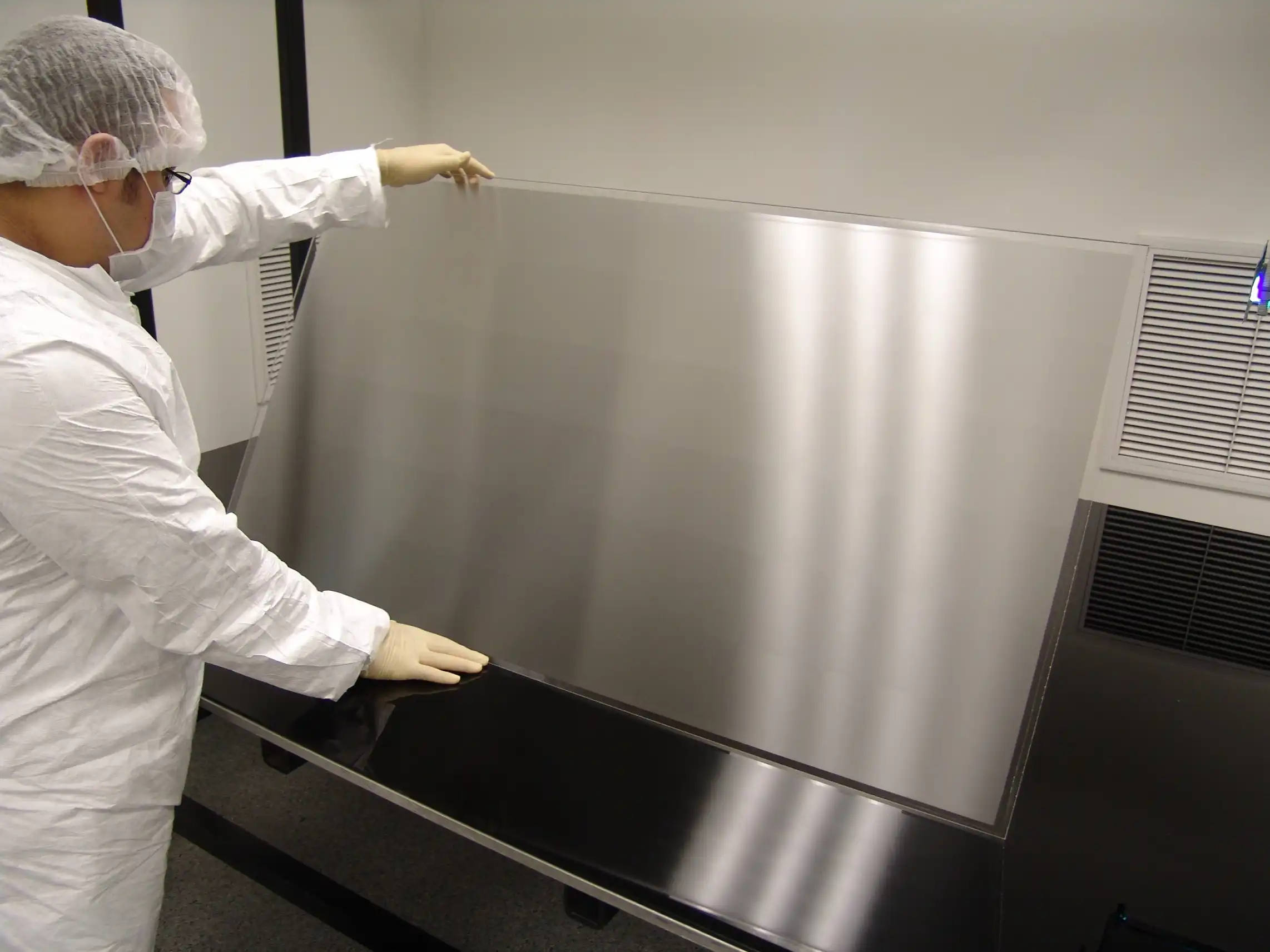 When the substrate thickness requirement for a given product reaches a thickness that cannot be made roll to roll, then we use our proprietary flat sheet replication process to emboss microstructures directly to the substrate. WFT produces large flat panel replication up to 4' x 8' with the capability to go larger. This process is used to create TMD diffuser screens and other holographic optical elements or micro prism patterns. Substrates, such as Glass, Polyester, Acrylic and Polycarbonate are used in thicknesses ranging from 10 mil to over 1 inch thick. Quantities produced range from just a few to tens of thousands.
WFT now introduces RIGID sheet products. Microstructures are replicated to thin PET film substrates on our R2R machines. This film is then bonded to acrylic, polycarbonate, or other substrates. Th bonding agent is a UV cured polymer and has no outgassing. Rigid product can be laser cut into various shapes and sizes all in-house.
Services-Replication On Glass Contents

WFT has recently applied its high-fidelity surface relief plastic part replication process for optics to glass. Finished parts can be produced from in-house originations and customer supplied masters. Typical applications include diffusers, deep structures, and diffractive surfaces made holographically or computer-generated. These glass replicas can withstand wafer cutting and temperatures over 100° C. Replicas can be made in small, odd shapes or large sheets.